self-censoring
I like this picture - it sits in a frame in my office at home and reminds me of how I got started in social work. It was a summer job in my first year at university, working in a children's home. The boys in the photo lived there (and that is my first car they are climbing all over!). I have blurred the faces because these people, who will now be in their late 40s, may not want photos of themselves as children in care posted online.
As a photographer who also works for the NSPCC I find myself self-censoring quite a lot when it comes to images of children. I spot lots of potential pictures which I hesitate to make, let alone post because I am concerned about how the subject might feel about it. Maybe not now, but in the future. Parental consent doesn't make a jot of difference when it comes to the future feelings of the child.
I guess some recent work with the University of the Arts in London and the Tate have brought this into sharp focus for me. I have been looking again at some photographs which I admire and wonder if they should ever have been taken. Or more precisely, if they should ever have been exploited by the artist in the way they were. I would really appreciate your views on this and to get you thinking I am presenting a few examples with rather more artistic merit than the happy memory snapshot I have posted today.
First up is Diane Arbus and her iconic image of the boy with a toy hand grenade taken in Central Park.
The story to the best of my knowledge is that Arbus met the child, whose name is Colin Wood, whilst walking in the park. Colin was 7 years old at the time, the son of a well-known tennis player whose parents had recently divorced. He has described himself at that time as very lonely. A vulnerable child. Arbus took 11 photos of him and chose this one as the keeper.
He was not being posed in any detail but was given direction. He has explained his contorted expression and stance as arising out of frustration - "take the picure already" as Arbus continued to circle him with her camera. In other shots he looks happy and mostly does not hold the grenade.
As an adult he seems at peace with the image. He was interviewed as part of the BBC programmes, 'The Genius of Photography' and has spoken about the connection he felt between Arbus and himself. But at the time this was a brief chance meeting which he knew no more about for 7 years.
Seven years later, the now 14 year old Colin finds copies of the picture posted around his school when one of his schoolmates discovers it in a magazine, along with the original caption - "A child of the aristocracy posing in his rich archaic clothing". That was not good for Colin.
Was the harm experienced by Colin justified by the artistic merits of the photograph which Arbus selected from the roll of film she shot. Does it represent him or the message she sought to convey. Does the fact that this image is part of a much broader body of work with similar themes and connections excuse the personal injury experienced? Is the picture worth more than Colin's negative experiences?
If Colin's parents had been present to consent to the making of these images, would that have made a difference? What consent given in 1962 could be informed by how the images would be used or viewed in 2013? Did Arbus owe a duty of care to Colin in considering how she would use the pictures she took?
Next up - Sally Mann
Mann is best known for her photographs of her children. They are undoubtedly beautiful photographs, expertly made, and give an intimate and intriguing account of her children's early lives. But they can be seen as deeply inappropriate images which should not have been made or made public.
One thing that makes a difference to me is the way in which Mann responded to her children's feelings about the images. When her son decided he did not want to be depicted without clothes she no longer made any images which showe him nude. Indeed the photograph entitled 'The Last Time Emmett Modeled Nude, 1987' is one of my favourites of her pictures.
However, the previous pictures were and are still out there, whether Emmett likes it or not.
Others, like 'The Wet Bed' (below) make me more uncomfortable, both about how the image might be viewed by the subject once older, and how it might be consumed by others. These are not private family momentos, they are available to anyone in the world at the click of a mouse.
Some images, whether photographs, paintings or whatever, cross a line. The line might be a personal and a moral one or it may be a societal and a legal one.
The paintings of Graham Ovenden have recently been removed from public display by the Tate following his conviction this year for acts of indecency with some of his child models. This took some time - the police first took an interest in his work in the early 90s but the images themselves were never found by a court to be problematic (the CPS did not pursue the first attempt and a second case collapsed when some key witnesses did not appear). In the light of his convictions they are now seen differently by the art establishment. Would we view Mann's work differently if she were to be convicted of acts of child sexual abuse?
Would we view them differently if they had been made by the children's father?
This brings me to my third example. I was not aware of the works of the Romanian photographer Irina Ionesco until a fellow Shutterchancer brought her to my attention. She is best known for her photographs of her daughter Eva. These images are different from Mann's depictions of her children in that Eva is displayed in an unambiguously sexual way.
Eva was removed from her mother's care but not before photographs of her aged 4-11 had been published widely, including in Playboy and Penthouse as well as in more 'artistic' publications. She photographed her young daughter in the same way she explored sexual themes with older models.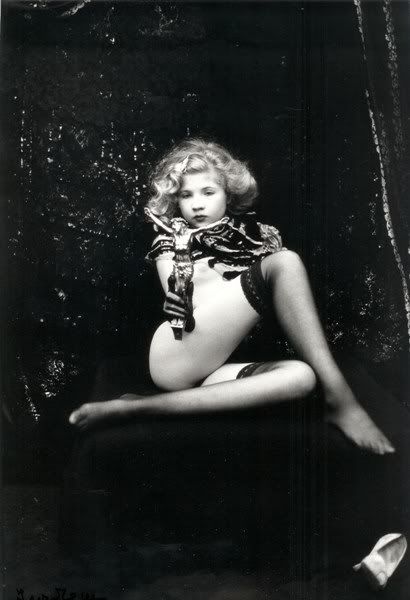 This image perhaps best balances the need to explain the nature of the photographs without becoming too explicit. A quick Google search (even with Safesearch enabled!!) will bring up more disturbing examples. Eva has since tried to sue her mother both to try and reclaim control over the images and for compensation for what she described as a 'stolen chidhood'.
For me, Ionesco was completely wrong to make these photographs, let alone publish them and use them to promote her career. The artist has a responsibility to choose a way of expressing themselves which does not so clearly harm and exploit others, especially children and other vulnerable people.
But sometimes the choices and the consequences they bring are often less immediately obvious.
What do you think?